552 Victory Road
Quincy, MA
833.257.2350
Tour
Floor Plans
Gallery
Virtual Tour
Contact





FILTER BY
December 16, 2017
Meet the Meriel Team – David's Holiday Favorites
Happy Holidays at Meriel Marina Bay
The holiday season is our favorite time of the year here at Meriel Marina Bay! From decorating our community, to providing holiday events, our goal for the season is to provide cheer for our residents and the Marina Bay community!
We all have our own holiday traditions and favorites that make this time of year so special. Now we're giving you an inside look at our Meriel Marina Bay team and our own holiday traditions. Today's featured employee is David Karson, your Sales & Marketing Associate!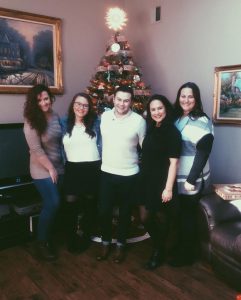 ---
Wrapping paper or gift bags?– I'm horrible at wrapping presents but I love wrapping paper.
Real tree or artificial tree?– Real tree, of course!
What is our favorite gift you've ever received?– My parents got me a record player and I still use it almost every day.
Favorite holiday movie?– The Holiday
Favorite holiday song?– Have Yourself A Merry Little Christmas (doesn't matter who sings it)
Favorite thing to eat during the holidays– Stuffing
Do you drink eggnog?– Yummm
Favorite holiday tradition– Wearing matching pajamas with my family all day!
Does your family send out holiday cards each year? – Nope!
When do you start your holiday shopping? – Usually, Black Friday
Stay home or travel for the holidays? – I always travel home to New York to be with my family.
What do you like most about the holiday season? – Everyone is typically in a good mood and feeling the holiday spirit! Also, just being with my family who I don't get to see often.
---
Schedule a tour today at Meriel Marina Bay; David can show you all this waterfront community has to offer!