552 Victory Road
Quincy, MA
833.257.2350
Tour
Floor Plans
Gallery
Virtual Tour
Contact





FILTER BY
June 14, 2018
David's June Signature Cocktail
The first of day of summer is right around the corner (June 21st to be exact) and that means it's time for summer cocktails! Summer is the perfect opportunity to take advantage of those delicious flavors that come from fruits only grown this time of year such as watermelons, cherries, berries and peaches.

The June cocktail of the month is a Cheeky Peach! This drink includes everyone's favorite spirit, vodka, and summery flavors like pineapple and, as the name suggests, peach. This simple cocktail will be sure to impress guests at your summer barbecues or help you unwind after a long day. Take a look at the recipe below!

Ingredients:
• 2 ounces of vodka
• ½ ounce of peach schnapps
• 1 ounce of pineapple juice
• ½ ounce of simple syrup
• 2 dashes of bitters
• 5 mint leaves
• Soda water to top it off

Directions:
• In a shaker, muddle the mint and pineapple juice together.
• Add crushed ice, vodka, peach schnapps, bitters and simple syrup into the shaker. (You can either buy simple syrup from the store or make your own! Check out our other monthly cocktail recipes to find instructions on how to make your own simple syrup.)
• Give it a good shake and strain it over crushed ice in a glass.
• Top it off with soda water and enjoy your Cheeky Peach!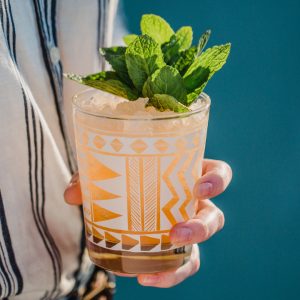 (Photo Credit: Liquor.com)