FILTER BY
January 16, 2018
David's January Signature Cocktail
During this time of year, all we want is to fight the winter cold and stay warm. Gloves, scarves and blankets may keep us warm on the outside, but what about the inside? Tea and hot chocolate are traditional warm drinks in the winter, but let's best honest, we don't want to give up our favorite cocktails!

A traditional hot toddy is a popular winter cocktail that typically consists of hot water, honey, lemon juice and a liquor such as bourbon. Hot toddies are delicious, and are even believed to help cure the common cold, but let's make it a little more exciting! This month's signature cocktail is a Fireball Hot Toddy. This drink is easy to make and will warm you up inside and satisfy your cocktail cravings; you can have your cake and eat it too!

Ingredients (serves 2):
• 2 cups of boiling water
• 2 tsp of honey
• Juice of half a lemon
• ¼ cup of Fireball
• 2 cinnamon sticks
• 2 star anise
• ¼ cup of warm caramel

Directions
• Rim your glass with caramel
• Bring water to a boil
• Add 1 tsp of honey to each glass and squeeze lemon juice
• Pour in Fireball and boiling water into each glass
• Stir until the honey is dissolved
• Top with cinnamon stick and star anise
• Drink and enjoy!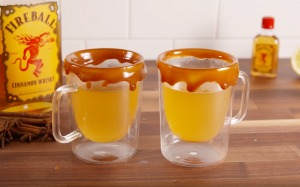 (Photo Credit: Delish.com)