FILTER BY
February 5, 2018
David's February Signature Cocktail
You've survived the first full month of winter, which means you deserve a drink! In the spirit of Valentine's Day, this month's signature cocktail is a My Funny Clementine. This gin and citrus cocktail will have you smiling from ear to ear and more importantly, will impress your loved one.

A My Funny Clementine combines the best of both worlds: liquor and sparkling wine! The cocktail starts with gin, citrus juices and bitters and then gets topped off with prosecco. What isn't there to love?! Making this drink is super easy and will be sure to make your Valentine's Day special and memorable.

Ingredients (serves 1):

• 1.5 oz of gin
• 4 Clementine segments
• ¼ oz of lemon juice
• ½ oz of simple syrup (can either purchase in a store or make your own!)
• 2 dashes of blood orange bitters
• Prosecco

Directions

• If you decide to make your own simple syrup, the process is very simple! Combine equal parts sugar and water in a sauce pan and heat the ingredients until the sugar is fully dissolved. Let the syrup cool and tada! – You've made your own simple syrup.
• Combine the gin, clementine segments, lemon juice, simple syrup and blood orange bitters in a shaker and fill with ice.
• Shake and strain into a champagne flute.
• Top off your glass with your favorite prosecco (or champagne) and enjoy!

*Tip: If you want to impress your Valentine, garnish your glasses with a clementine wedge or peel off a strip of clementine peel and create a twist!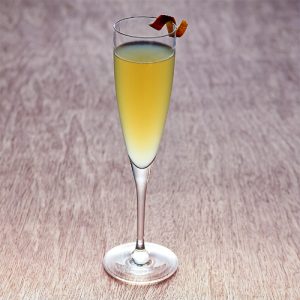 (Photo Credit: Liquor.com)