FILTER BY
April 17, 2018
David's April Signature Cocktail
The weather is starting to get warmer so you know what that means…Time for refreshing, spring cocktails! Spring is the perfect time of year for fresh herbs and bright fruit flavors, and that's exactly what this month's cocktail has.

The April signature cocktail is a Rosemary Greyhound! This drink combines the sweet and savory flavors of a rosemary simple syrup with the tartness of grapefruit juice. Add some vodka and you have yourself the perfect cocktail to enjoy on a sunny, spring day out on the balcony while you enjoy gorgeous water views at the marina! Below are the ingredients and directions to make your own Rosemary Greyhounds.

Ingredients (makes 1)
• 2 ounces of vodka
• ½ ounce of rosemary simple syrup (Requires equal parts water & sugar, 6 sprigs of rosemary)
• 4 ounces of grapefruit juice
• Sprig of rosemary

Directions
• To make the simple syrup, dissolve equal parts sugar and water in a sauce pan over medium heat for about 5 minutes. In a heat safe container, pour the simple syrup over the rosemary sprigs and let it sit for 1 hour. Congrats bartender, you've made your own rosemary simple syrup!
• To make the cocktail, start by filling a glass to the top with ice.
• Combine the vodka, rosemary simple syrup and grapefruit juice.
• Stir and garnish with a sprig of rosemary and you have yourself a Rosemary Greyhound!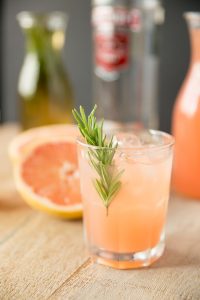 (Photo Credit: tasteslovely.com)

*Tip: Top off your cocktail with a splash of soda water to make this drink even more refreshing on a hot, sunny day!