FILTER BY
July 13, 2018
David's July Signature Cocktail
Now that summer is in full swing, we need something to give us some relief from the hot sun! Sure, a cold glass of wine or a drink on the rocks can help, but that can get boring. Switch things up this summer and make frozen drinks instead!

The July cocktail of the month is a Raspberry Frozen Rose, better known as a Frose. Frose is extremely popular these days and delicious! I mean, frozen wine is always a good idea. This drink is super easy to make and will be sure to cool you off on a hot day. Follow the steps below to make what will become your new favorite summer drink.

Ingredients:
• 1/2 bottle of rose wine
• 1 cup of fresh raspberries
• 1 Tbsp of granulated sugar
• ¼ cup of fresh lime juice
• ¼ cup of vodka
• Ice

Directions:
• In a blender, throw in some ice and combine the rose, raspberries, sugar, lime juice and vodka.
• Blend everything together until it is slushy. If the mixture is too watery, add more ice and blend it all again.
• Pour into your favorite glass, top it off with the vodka (if you're feeling adventurous) and you have yourself a delicious raspberry frose!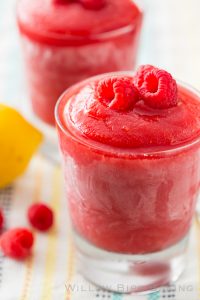 (Photo Credit: Willow Bird Baking)

Tip:
Get more creative with your frose this summer! Using the same recipe, minus the vodka and ice, blend all the ingredients together and pour into an ice tray. Freeze overnight and you'll have frose ice cubes that you can put into your glass of rose. The best part is when the ice melts, you'll have more wine!