552 Victory Road
Quincy, MA
833.257.2350
Tour
Floor Plans
Gallery
Virtual Tour
Contact





FILTER BY
March 12, 2018
David's March Signature Cocktail
St. Patrick's Day is almost here so that means it's time to start preparing for all the festivities! While a simple beer is typically a St. Patty's Day favorite, switch it up with a delicious cocktail this year. This month's signature cocktail is a Pot of Gold. Simple and refreshing, this cocktail has a mix of intense flavors that work together to create a sweet drink, with a little extra kick. The Pot of Gold will be sure to get your St. Patrick's Day celebrations started and might even bring you some good luck!

A Pot of Gold has only 5 ingredients and is very easy to make! Combine the simplicity of vodka and ginger beer with the sophistication of elderflower liqueur and you have yourself the perfect cocktail. Keep reading to see all the ingredients and directions to make this delicious drink!

Ingredients (serves 1):
• 2 ounces of vodka
• ½ ounce of elderflower liqueur
• 4 pieces of cucumber (1 inch thick)
• 8 leaves of fresh mint
• 1 ounce of ginger beer

Directions
• Muddle cucumber pieces and mint leaves together in a shaker.
• Add your vodka of choice and the elderflower liqueur.
• Shake and strain into a chilled glass.
• Top with ginger beer.
• Garnish with a fresh mint leaf and enjoy!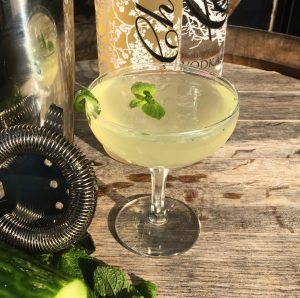 (Photo Credit: Chase Distillery)